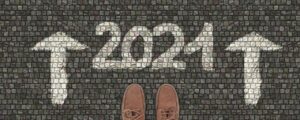 It's that time of the year where predictions are all the rage. In many ways, 2021 is going to be different than we've seen in the past.
First, we are closing out a mind-bending, disastrous 2020 that everyone wants to forget. The year was interrupted with shattered norms and dreams, changed etiquettes, shifted expectations and values. A new sense of desperation pervades the market as companies recalibrate and remodel themselves.
2020 will be remembered as the year when remote working became mainstream, and the office became unfamiliar. We also became experts on vaccines, health became an everyday topic (and we are none the wiser), wildlife caught a break and ran wild, and the world was left leaderless as countries looked inward to help themselves.
2021 will be quite different. It will be the year before global populations get fully vaccinated. It will be the year when a lot of economic relief will be rolled back. Next year, PR professionals will see a gargantuan leap in a corporation's objectives and purpose.
Here are four predictions we believe will define the new year.
Strategic Thinking Hats Become In Vogue
In 2020, Twitter and Facebook became our newspapers when we were stuck at home or quarantined. But these platforms are not news organizations. While they are grudgingly taking the responsibility to censor and label their content, their main drive is to accelerate consumption and grow their user base.
This is both good and bad news for traditional journalism. Many turned to traditional online news sites and TV channels to verify the news destinations. The bad news is that the newer generations use social media as their primary media consumption. Just ask your child where they get their latest news. This means that rumors will matter — before Twitter and Facebook label it.
PR professionals need to find the right balance. Having exposure in mainstream and online news has always been a brand strategy. But the balance needs to be tweaked to how you want to control this exposure as media consumption tilts with the new generation. It means they should become strategic and sophisticated in getting the word out.
Building the message house needs more thought in how those message statements will be read and consumed. It also means that what worked before for one client will not necessarily offer a blueprint for others.
Getting Personal in an Impersonal World Becomes Art
Face it, our lives center around video conferencing schedules. In the past, going for a face-to-face meeting means hours of commute, waiting, and physical anxiety. Now, your next appointment is a link away. How convenient!
But have we traded off with this convenience? We lost out on the visual cues, side jokes, sharing of experiences on the side, direct eye contact and connection with other humans, and showing how we can influence and build trust as we present live and in person.
Today, meetings are now just about, well, meetings. Visual cues are lost. No more handshakes or friendly jokes to break the ice beforehand. Side conversations about your spouse or kids feel strange with other faces on the screen. And you need to decide when being friendly is wasting the other person's time. We all need to get to our next Zoom call.
In such a world, PR professionals now need to do more to influence and drive trust. They need proof points. They need to become more analytical.
Next year, PR professionals will see a gargantuan leap in a corporation's objectives and purpose.
Activist PR Becomes Mainstream: Shout It Out
Diversity, Equity, and Inclusion (DEI) as well as environmental protection used to be "feel good" topics that augmented the brand. They were not mission-critical. Today, with more people thinking about their impact on the earth (having more time to ponder about it at home while experiencing the toll of a ravaging virus), you cannot avoid the range of topics. At the same time, people are looking for a purpose. This is driving many to join causes and movements they believe in. Unfortunately, many brands are ill-prepared to navigate these changing waters.
Take Black Lives Matter (BLM), for example. A lot of brands joined the BLM movement for many reasons. But many were immediately called out for doing so. There was push back, and brands had to recalibrate. Some had to trace their steps. You can say the same about environmental protection, especially with raging wildfires devastating crops and wildlife. The focus on healthcare also moved the needle on holistic living.
To thrive, PR professionals need to think like activists. This is always a dilemma for brands that had always taken the safer route. But that is shifting. CEOs themselves are becoming activists. Employees are also demanding more from their brands to become active in pursuing causes. Brands like Google and Amazon, where creative thinking was encouraged, are now trying to control the activism. But the word is out. Activism is now inside companies, and there is no turning back.
PR professionals should define a robust platform for their brands and clients right from the onset. There is no middle ground. You either make a stand that you are part of the movement, or you make a stand you are not. If you do not, your customers and the public will do it for you, and you lose narrative control.
Marketing and PR Becomes a Blur
This melding of two seemingly separate worlds has been occurring for some time. But in 2020, the overlap became bigger.
Part of the reason is that people spent less time outside and saw fewer advertisements and other forms of branding activities. At home, they consumed online media. Many turn off ads or ignored them. When was the last time you clicked on a banner ad?
While creative agencies are finding new, exciting ways to interrupt our lives with their brands, outreach via influencers and PR has become more critical. This means the PR message house should incorporate brand values and equity more visibly. It also means that PR professionals will be working closely with their marketing counterparts.
This is also a two-way street. PR professionals are increasingly asked to weigh in on messaging and branding. Will a particular message resonate with the target audience? Will the media misinterpret it? What is our crisis communication plan if it does?
The overlap will continue to grow bigger and faster. Will we see the rise of the Chief Messaging Officer? What is certain is that PR professionals should also think like today's chief marketing officers. Will they be paid the same?
Let's leave that for the 2022 predictions.