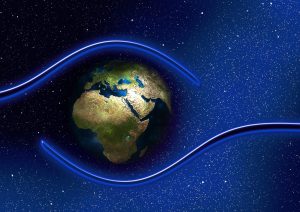 COVID-19 is in full and nasty bloom, and companies are in survival mode, whether struggling to stay in business or keep up with extreme demand. It is a time of anxiety, nervousness and brief attention spans for businesses and customers. As a PR Pro, getting your message across under these circumstances is a monumental challenge. Maybe it is high time for a rethink. 
Before COVID-19, people were talking about reinventing PR and digitalizing it. It seems now is the time for that to happen. Below are three ways we feel PR will innovate in these changing times.
The dawn of digital briefing centers
I'm not talking about your average media page or PR portal. Rather, we need to talk about changing the way we engage reporters.
There are legitimate reasons why we need digital briefing centers. We have never video conferenced to this extent. Yes, we are seeing some Zoombombs and videoconferencing fatigue. But these are just our attempts to adapt. Messaging and collaboration need to be a lot more multimedia and real-time.
A digital briefing center is the answer to our changing expectations in engagement. It offers a single location (both virtual and physical) for reporters to access your webinars, videoconferencing interviews, on-premise panel discussions, media resources, and more.
Another reason is that reporters are shifting their habits like the rest of us. They are being carpet bombed with media briefings at multiple web links. Many do not attend; they simply ask for an interview and a recording of your announcement. A digital studio allows media to conveniently visit your brand's website, where all the resources they need are just a click away.
An extension of this concept is the media avatar available 24 hours at the digital studio. This, again, is not new but has hardly taken off. But with media looking for immediate details and answers, a media avatar trained with the right information can handle most queries while leaving the more complex or sensitive ones to actual humans.
Community and environments are key points
COVID-19 has made us more aware of nature. And people are getting more attuned to societal and environmental protection messaging.
Not just in terms of corporate social responsibility (CSR), but in many countries, companies are now being held to environmental, social and corporate governance (ESG) principles. Employees and customers are able to shame online for eco-shaming, community and environment so ESG needs to be part of your PR messaging. 
It is a time of anxiety, nervousness and brief attention spans for businesses and customers.
This means PR pros need to be mindful about these issues when building their PR message house. You don't want to be called out for performing lip service. Your spokesperson needs to have the right answers.
All brands are vulnerable, and all suppliers face the risk of being categorized as offenders by mere association or being in the same country/industry. So, instead, PR Pros need to proactively ensure that all messages address such risks.
The art of talking to a burnout culture
In today's Zoomed out media culture, PR messages are reaching deaf ears.
Face it, working from home is not what many people thought it was. Sure, if you are single, have a spacious house and face a swimming pool, it's been swell. But most are juggling with private smaller spaces, children, chores and other distractions.
Then, there's job anxiety, made worse with the torrent of internal video calls with various team members to ensure everything is fine. Focus and attention is tough.
This is where PR pros need to rethink their messaging. It may be time for you to cultivate online relationships and think about nurturing the interest.
Just ask the fund houses and traders. They have been doing this for ages over phone calls, virtual meetings and physical meetings. It may sound like the "Hustle" but that is what it takes to get people to remember your message these days.
Whatever your approach, you can no longer rely solely on press releases and online conferences. Even if reporters attend your conference, chances are they will not remember to attend the next one on their schedule, the next minute.
PR is changing — with or without you
The above is a small glimpse of how we see changes in PR during these changing times. And in the coming weeks, we will share about key innovations and strategies that companies are using to grab the attention of an unresponsive and over-bombarded media community.
Meanwhile, if you have thoughts, comments and observations, please share.