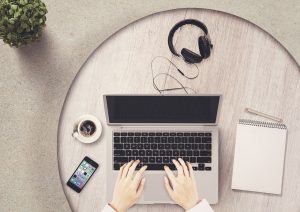 While forced isolation may be a new concept for many, there are some who have a good bit of experience isolating. My experience is two-fold. First, I've been working from home since 1997, when people would ask how that was even possible (I had a dial up internet connection at the time, and it was the pre-Blackberry, pre-smartphone era). To be fair, I only worked remotely one day a week for a couple years. It wasn't until 2002 when I no longer went into an office and got a real taste of not interacting with co-workers on a daily basis. Still, we're talking 18 years of solid solo work experience.
It was in 2016, however, that I got a real, eye-opening dose of forced social isolation. My then-13 year old daughter did what I call a complete "crash and burn" with severe anxiety, agoraphobia, and a whole host of other symptoms, including headaches, stomachaches, and chronic rashes and hives, to name a few. She was rendered non-functioning as a human being. For two years, all I did was go to doctors' offices and the grocery store. I brought literal meaning to "run to the grocery store" – as I ran up and down the aisles to get back home as quickly as possible. I cherished those 45 minutes outside of the house once a week.
So, when I hear this social isolation could go on for several months due to the coronavirus (COVID-19), while I'm not thrilled, there are far worse things in life. I understand this is hard. This situation has touched every person and family in many and very difficult ways. Events and celebrations have been cancelled. Jobs have been lost. Work hours have been reduced. Time at school and college has come to a screeching halt. But, let's choose to focus on the positive. Trust me. This temporary situation, and it is temporary, will be a whole lot easier.
Here are just a few of my tips that I've used to not only survive in isolation, but thrive:
Eat Clean – My daughter's illness (which turned out to be Lyme disease that went undiagnosed for 12 years) dictated that she eat gluten-free and diary-free initially, but since her diagnosis in 2017, we have evolved further to a paleo diet (no processed foods, no dairy, no grains, and no processed sugars). Now is the perfect time to experiment or do that cleanse you've wanted to but didn't have the time. Search for the paleo version of your favorite recipe and give it a shot. Plus, this will aid in boosting your immune system which will help you fight the symptoms of coronavirus. Refined sugars and carbohydrates like bread, pasta, and cereals are working against you.
Positive Attitude – If you focus on what you CAN do with this unique time, and not what you can't do, this will be a more positive experience, and that's good for two reasons. 1) A positive attitude, along with positive thoughts and feelings, also boost your immune system. 2) You will look back on this coronavirus era and what you did with your time, so make it good. Have a story to tell.
Fun and Laughs – This can be very challenging in hard times, but more important than ever. If you are down in the dumps, feeling sorry for yourself, and/or worried about finances during these uncertain times, nothing switches your mood quite like laughing. Watching standup comedy or a funny movie on Netflix, watching old home movies, and playing a funny game like "What Do You Meme?" are all great options. I will be forever grateful for comedy series like The Office and Brooklyn 99 that were my lifeline during some very sad days.
Happy Memories – The many photos we have on our phones are easy to access, but what about pictures from years ago? We've dug through old scrapbooks and boxes of hard copy photos, inexpensively transferred old VHS tapes to DVDs (thanks, Costco), and watched old home videos from when my kids were little. I've even found old cards and letters from my late parents and grandparents that have brought happy smiles and good tears.
Hug your Pets – No one is happier about this isolation situation than our furry friends. If you are fortunate to have pets, take time to connect and learn from them. Our special creatures love us unconditionally, faults and all. Have you ever put your forehead against your dog's forehead? The feeling is amazing. We have two dogs – a Cairn terrier (Webster) and Golden Doodle (Bailey), but Bailey in particular has been a remarkable, unofficial therapy dog to my daughter in her recovery. I thank her every day for the sweet, unique love she brings to our family.
Most of us have stepped away from the simplicities of life
Appreciate Nature – This doesn't have to mean hiking a mountain or trekking to the beach. When I've sat in my backyard, put my phone down and taken in a slow, deep breath of fresh air, I've noticed the beauty of the trees, the color in the birds, the blue of the sky, and white puff of the clouds. Praying, yoga or meditation in nature adds to the healing.
I've seen a bunch of memes and information on social media about Mother Nature or God or the Universe sending us to our rooms to think about what we've done, to stop and smell the roses, to connect with one another, take care of our health, and be with nature. I think there's a lot of truth to all of this. In recent decades, most of us have stepped away from the simplicities of life and neglected the physical and mental health of ourselves and our planet.
Whatever wisdom you access, let's listen intently, re-adjust our day-to-day routines accordingly, and take this unique time given to us to re-emerge healthier people. The world depends on us.
At BroadPR, Christine Snyder supports clients with writing press releases, media outreach, landing speaking engagements, and building award portfolios. She has worked in marketing and public relations for 30 years. The proud mother of 17-year old Caroline, Lyme warrior and survivor, and 22-year old Joann, grad student at Ithaca College, she aspires to be an advocate for kids and teens battling mental health issues caused by undiagnosed medical conditions. She resides in Hollis, NH, now with her two kids and husband, Dan. If you have questions or comments about her family's journey, she can be reached at csnyder@broadpr.com.