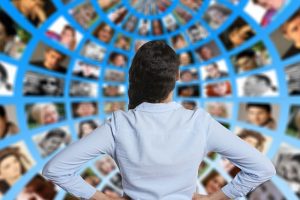 We are all in the midst of trying to adapt to drastic changes brought about by COVID-19. Public relations is no different. PR is a high-touch business with constant networking and in-person conversations, and the industry and the profession are both reeling from the coronavirus measures. There is also demand, as clients turn to PR pros for help like never before for answers and direction. As companies walk on eggshells to do business and take care of their employees, they need PR pros to drive the right messaging as there is no room for clinical and sanitized corporate-style legal speak or insensitive messaging.
So, how can PR pros best work under these lockdown conditions while being at the top of their game? The answer lies in being a chameleon of ideas and reboot old PR ideas.
1. Become an influencer and stop being camera shy.
We will not be shaking hands for a while. Even with fist and elbow bumps, people will be wary to meet you, let alone touch you. So, PR pros need to get cozy with the on-camera habits (if you have not done it already).
There is one group who aced this approach: your online influencers or key opinion leaders (KOLs). Their success depends on the set up of their cameras, backgrounds, lighting and cultivating an on-camera personality that gels with their audience.
PR pros need to study them. Even if you feel that this is not your cup of tea, you need to understand the basics. It is how you will be reaching out in the coming weeks or months. It also gives you an opportunity to develop your unique style, or even better, a style for your entire PR organization.
2. Time to show the caring side of your clients.
Face it, everyone is bingeing on coronavirus news. News about launching a product will most likely get lost in the chatter. So, what should PR pros do?
First, get the context right. While recent announcements and news are important, there has never been a more important time to show how this can help the end users during these trouble times.
Media also wants to hear about COVID-19 from fresh perspectives. Many are already drowning in related news and questionable data. Find ways to authentically get into that conversation but don't force it.
Think bigger than product announcements. The current pandemic stokes fear while remote working also makes people feel cut off. Now is the time for your clients to be sending good news stories and assuring messages to their end clients. Tell them how you are supporting them during this time, but don't overdo it and try not sneak in deals or offers. Home kits and WFH (work-from-home) or SHM (stay-at-home measures) packages can show your client cares, as will generous upgrades and extensions of current contracts or loyalty benefits.
Every effort counts. But always remember you are walking an emotional tightrope, and don't want to appear as if you are taking advantage of this situation or using it in self-serving ways.
New social rules and the pervasive use of technology are already shifting in habits, preferences, and loyalty.
3. Brush up on your tool stack or create one for your PR efforts.
The quarantine and remote working measures opened an alternative world of productivity tools. Slack and Microsoft Teams are becoming de facto virtual workspaces while video conferencing tools like WebEx and Zoom are becoming the new normal.
For many marketing teams, these are tools that they are familiar with. For PR pros, it is time for them to become adept in using them. Being part of a Slack channel is not enough. You need to become power users and learn about the various integrations and extensions that can improve your life and the clients'. It is also a good time to create your own arsenal of services and tools to improve your work and value proposition.
Many of these tools will not disappear when the pandemic burns out. Many are already questioning whether work-from-home will be the new normal for office workers. We will not know yet, but the idea of work has been forever altered.
4. Plan for post crisis—yes, there is one, and it will be challenging.
With every crisis, there is an aftermath. The one for COVID-19 will be challenging, and PR pros need to be ready.
New social rules and the pervasive use of technology are already shifting in habits, preferences, and loyalty. As the pandemic ebbs away, incumbents in different sectors will see a transformed market landscape and face a new breed of competitors. Consumers will also be more ready to accept technologies led by AI and other emerging technologies.
Now is the time to get your clients prepared for what comes after COVID-19. You need to confirm the messaging approach and treat it like a crisis management. Once the world enters the post-pandemic phase, it will be time to execute this approach—not plan for it.
COVID-19 shows how connected human civilization is. While it offers an unprecedented number of challenges to everyone and every business, it brought together the world to tackle a danger against humanity. It also showed the value of emerging technologies and digital innovation.
For PR pros, it offers an opportunity to re-look at the way we help our clients to get closer with their end customers. It gives us the chance to get involved deeper in corporate messaging or enterprise wide messaging, and help clients hone their story.
This is the right time to ideate. As Eleanor Roosevelt once said, "Great minds discuss ideas; average minds discuss events; small minds discuss people."